April 6, 2021
Read More: The Night Bob Seger Canceled Hours Before Showtime: Book Excerpt | https://ultimateclassicrock.com/danny-zelisko-book-bob-seger/?utm_source=tsmclip&utm_medium=referral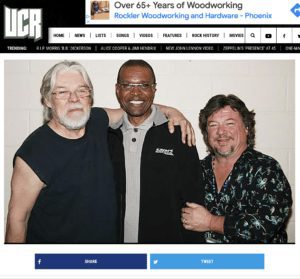 Veteran concert promoter Danny Zelisko shares tales from the business in new memoir 'ALL EXCE$$ Occupation: Concert Promoter':
Veteran concert promoter Danny Zelisko is pulling the curtain back on nearly 50 years of transcendent highs and devastating lows in his new book, All Exce$$ Occupation: Concert Promoter.
Zelisko has produced more than 10,000 live music events throughout the U.S. over the course of his illustrious career, from sweaty club gigs to stadium extravaganzas. He's collected plenty of wild stories working with the biggest names in rock. There's the evening he spent with Pink Floyd in a castle full of naked champagne girls. And the time he hobnobbed backstage with Alice Cooper manager Shep Gordon, who got into a fistfight with fellow rock impresario Bill Graham later that evening.
Concert promotion also taught Zelisko to think on his feet. Take, for example, the fateful night in 1980 when Bob Seger was set to play at the Arizona Veterans Memorial Coliseum. It was Zelisko's first arena production, and spirits were high — until Seger canceled the sold-out show hours before he was due to hit the stage.
In the following exclusive excerpt from All Exce$$ Occupation: Concert Promoter, Zelisko details the moment Seger pulled the plug on the gig and how, together, they managed to salvage the evening from catastrophe.
Bob arrived at the building around five o'clock, all the catering was done, the band had sound checked and everything seemed to be well taken care of. This was my first big show by myself, my first arena show. I was moving around the place on roller skates, having a great time.
I could hear Bob singing through his door, practicing on the little guitar amp I'd gotten for him.
A little while later I skated past Bob's dressing room again, but this time, I found him standing out in the hallway, smoking a cigarette, talking on the pay phone outside the dressing room door.
He looked up at me and asked, "Are you the promoter?"
"Yeah."
"Come here. My manager wants to talk to you."
Bob handed me the pay phone (no cellphones yet), so I could talk to his manager, Punch Andrews.
"Hey, Danny, it's Punch. Bob's not singing tonight." Just like that.
"What?"
"Yeah, he burned his throat out."
"Then why is he smoking?"
"Ask him."
Seger said, "I'll make it up to you. I'll come and play another show for you."
I said, "You don't understand, Bob, the lobster's cooked. Everybody's eating, the show is set up, the audience is on their way down, the staff is here. I've got to pay everybody."
"Don't worry. Just put it in as an expense for the next show, and I'll take care of it. I will come back and play this show!"
"Well, how am I going to take care of these costs now on top of the cost of doing it all over again?"
"How fast did we sell out?"
"Really fast."
"All right, let's add a second show. That way, we can pay for all the expenses, I can make it more worth my while to come out here and you'll make your money. I'll write you a check right now to cover your costs. How's that sound?"
I said, "That sounds great!"
And that's what we did. Bob Seger, right there on the spot, had his tour accountant write me a check for 30 big ones. Bob showed me that you can be both a mensch and a big star at the same time. You better believe I pointed that out to other acts who had different thoughts about who should pay when they had to cancel.
It was a great moment for me, because I went from the highest of highs to the lowest of lows and then he brought me back to even, which was fine. We rescheduled the show for two months later; he wanted to make good on his word and that was the soonest he could do it. His tour was over, but he sucked it up and came out to play those two shows for me, just to make sure nobody felt screwed by him getting sick. I wish more people would behave like that in these kinds of situations. Some groups think it's their right to cancel a show and have you pay the tab for all of the costs you have fronted. No kidding! Can you believe that?
I carried on doing business with Bob right up until a couple years ago, and now he's retired. Here's a guy who worked his ass off for years, and, folks, it paid off. The lifeblood of concert promoting is to work with people you present over and over again, from the beginning of their career. Although I didn't get involved with Bob till 1980, we broke a lot of ground together over the ensuing years. I always believed in him, as a human and one of the finest performers I have ever seen. Seger is one of my all-time top guys, as well as consummate performer. I bask in the personal glow of knowing he and I always did right by each other, that's all that matters.
Ranking Every Bob Seger Album
17. 'Noah' (1970)
The unloved stepchild in Bob Seger's discography, his second record is barely even a Bob Seger album. For some reason he agreed to let democracy reign, sharing lead vocals and songwriting duties with his bandmates. The results are often intriguing but scarcely Seger in the truest sense.
16. 'It's a Mystery' (1995)
Neither fish nor fowl, Seger's last album before entering into a decade of retirement is dulled by flat production and cuts that don't bear the bite and fire of his '70s classics. He sounds very much like a man who needed to take some time off to revitalize.
15. 'Like a Rock' (1986)
The songs are solid — "The Ring" is among Seger's most finely crafted ballads, and he damn near steals "Fortunate Son" away from CCR — but this '86 outing proves that even the Motor City master wasn't immune to the '80s overproduction monster. His previous couple of albums weren't exactly subtle to begin with; throw in some snazzy new digital technology and you've got trouble.
14. 'The Fire Inside' (1991)
The long-awaited follow-up to 'Like a Rock' was thankfully free of its predecessor's overproduction issues. In fact, it went the opposite direction, towards a more organic sound. But while it's fun to hear Seger cover a pair of Tom Waits songs, his own material here isn't up to his usual standards.
13. 'Face the Promise' (2006)
When Seger came out of his hidey-hole after a decade away from record-making, he had lost some of his vocal range to years of soulfully screaming his head off, but he was still perfectly situated for a comeback. Without significantly altering his sound, he made it clear that his classics were the template not only for 21st century country but also much of what was falling under the Americana banner.
12. 'Ride Out' (2014)
Raw, rootsy, and rocking, Seger's second album after coming out of retirement finds him back in his wheelhouse, with a sound that evokes his late '70s heyday. Even the Wilco and Steve Earle covers seem to fit right in to his timeless heartland vibe.
11. 'The Distance' (1982)
The classic Silver Bullet Band sound still holds sway here, and workingman's songs like "Makin' Thunderbirds" and "Boomtown Blues" hit home. But overall there's a lack of punch, both literally and figuratively. This was the first time an outside producer (Jimmy Iovine) wrested the reins completely away from Seger and his longtime overseer Punch Andrews.
10. 'Brand New Morning' (1971)
After parting ways with The Bob Seger System, our boy unleashed this anomaly, which he has since disowned. Strictly solo acoustic, just Seger on guitar and piano, it's full of ballads that underline Seger's debt to Van Morrison. It makes for a fascinating listen, but good luck finding a copy.
9. 'Smokin' O.P.'s' (1972)
Seger has always had a way with other people's material, and this mostly-covers album made that clear pretty early on. Taking on not only the likes of Bo Diddley and Chuck Berry but also Tim Hardin and Stephen Stills, Seger oozes soul at every turn.
8. 'Mongrel' (1970)
On his third and final outing with the Bob Seger System, Seger spits out some searing Detroit rockers and sings the bejesus out of the old Ike & Tina Turner hit "River Deep, Mountain High." But the sharp-eyed political savvy of "Leanin' on My Dream" shows he was starting to come into his own as a serious songwriter too.
7. 'Back in '72' (1973)
With the Muscle Shoals crew and some Motown cats backing him, Seger turned out a record that was hard-charging when it wanted to be and simmering and soulful when it needed to be. The sparsely arranged original version of "Turn the Page" beats the better-known, more melodramatic version from 'Live Bullet' by a mile.
6. 'Beautiful Loser' (1975)
The version of Bob Seger ultimately embraced by the masses first came into focus here, with reflective ballads like the title cut claiming just as much prominence as rockers like "Katmandu." This is the record Seger was touring on when the game-changing 'Live Bullet' was recorded.
5. 'Seven' (1974)
Seger loaded up his Silver Bullets for the first time here, but the harder-rocking sound of his earlier albums is still in evidence. "Get Out of Denver" remains one of his finest tunes, and "Long Song Comin'" and "U.M.C. (Upper Middle Class)" show off his knack for trenchant, unpretentious sociopolitical statements.
4. 'Ramblin' Gamblin' Man' (1969)
All you really need to know about Seger's first album is that it contains "Ramblin' Gamblin' Man," one of the most uncompromising slabs of in-your-face, raw-boned rock 'n' roll ever to come slam-banging out of the Motor City. Even if his Silver Bullet Band era had never happened, Seger would still earn immortality for this.
3. 'Stranger in Town' (1978)
This was the period when everything came together for Seger. His sentimental-but-not-sugary ballads ("We've Got Tonite"), his rough-hewn proletarian anthems ("Feel Like a Number") and his piston-pumping arena rockers ("Hollywood Nights"), taken together, made him a full-on rock star. It's enough to make you forgive him for "Old Time Rock and Roll," which, in his defense, he didn't write.
2. 'Against the Wind' (1980)
If there's a better line in the entire heartland rock oeuvre than the introspective title track's "Wish I didn't know now what I didn't know then," you'll be hard pressed to find it. But Seger also rocks like nobody's business on "Betty 1. 'Night Moves' (1976)
This is the one it all boils down to, the one that cemented Seger's status as a star after the breakout success of 'Live Bullet.' "Rock and Roll Never Forgets" is the song "Old Time Rock and Roll" wishes it was. And the title track practically gave birth to an entire genre all by itself. If you're only buying one Seger album, make it 'Night Moves.'
Read More: The Night Bob Seger Canceled Hours Before Showtime: Book Excerpt | https://ultimateclassicrock.com/danny-zelisko-book-bob-seger/?fbclid=IwAR11ZIchZT0uE9XKHx3CgO4nLvjWrI3eIPRwrEiJSFKoylTI9MYV3N1OKS0&utm_source=tsmclip&utm_medium=referral