March 23, 2021
https://omny.fm/shows/talking-with-mark-strigl/concert-promoter-danny-zelisko-is-talking-with-mar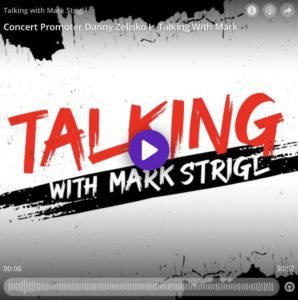 On this episode, Danny Zelisko talks with Mark Strigl.  Topics include the concert business, the duties of a concert producer, Bill Graham, Herbie Hancock, Deep Purple, Shep Gordon, putting his book together, his prediction on when tours and concerts will return, and much more.
ALL EXCE$$ Occupation: Concert Promoter is available at dzplive.com, you can also get it from Kindle, Amazon and Amazon Print on Demand (for outside US orders) all shipping included.
Please share this episode on social media.  Thanks!
Subscribe to Mark's weekly email here: www.MarkStrigl.net
Follow Mark Strigl: @talkingmetal
Follow Mark Strigl on Instagram.
Please consider supporting this show by making a PayPal donation.
Get bonus content and support Mark Strigl on Patreon: www.patreon.com/talkingmetal
#EVH #talkingmetal #Strigl #HerbieHancock #DeepPurple #ShepGordon #RockConerts